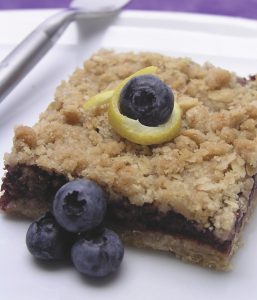 Ingredients
220 grams brown sugar, packed
113.5 grams butter, softened
(plus 56.75 grams)
51.25 grams shortening
218.75 grams all-purpose flour
80 grams rolled oats
6 grams salt
2.3 grams baking soda
2.3 grams cinnamon
Filling:
108 grams Tree Top 51% Blueberry/49% Apple Flake Powder
1½ cups Tree Top 1/4″ Apple Grind
8.66 grams Northwest Naturals Blueberry Flavoring
174.4 grams Northwest Naturals Blueberry Concentrate WONF
123.5 grams Tree Top Applesauce
118.5 grams water
123 grams light corn syrup
Prep Instructions
Preheat the oven to 400°F
In a large bowl, cream together brown sugar, butter and shortening until smooth. Combine flour, oats, baking soda, salt and cinnamon; stir into the creamed mixture until well blended. Set aside 2 cups of this mixture. Press the remaining mixture into the bottom of an ungreased 9″x13″ baking pan.
In a medium saucepan over medium heat, mix together the water, flake powder, apple grind and applesauce. Mix together 5 tablespoons corn syrup, flavoring and WONF. Add to saucepan. Stir until thickened (not long). Cool slightly. Spread over the oat mixture.
Mix the reserved oat mixture with ¼ cup softened butter and sprinkle over the top of the apple layer. Press down lightly. Drizzle with about one tablespoon of corn syrup.
Bake for 20 to 25 minutes, or until top is golden brown. Cut while slightly warm and refrigerate any leftover bars.
Makes 36 servings.