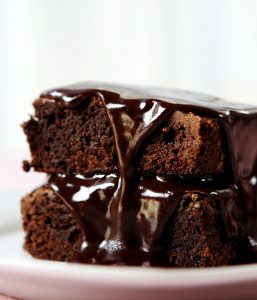 Ingredients
Brownies:
510.5 grams crushed Pineapple (strain extra liquid from pineapple)
6 eggs
510.0 grams butter
0.3 vanilla
340.0 grams all purpose flour
510.5 grams granulated sugar
460.0 grams chocolate pieces
Granache:
453.5 grams heavy cream
73.7 grams butter
377.0 grams chocolate chips
Prep Instructions
Brownies:
Melt butter and chocolate together.
Whip eggs and sugar together until mixture is light yellow. Slowly add melted chocolate mixture into the egg mixture. Fold in the strained crushed pineapple.
Sift flour and fold into the chocolate egg mixture. Pour into greased and lined sheet pan. Smooth top with offset spatula.
Bake at 350ºF, 18-20 minutes until toothpick comes out with couple crumbs. Don't over bake.
Cool completely, then ice with granache.
Granache:
Place chocolate chips in bowl.
Heat Cream until steaming. Pour hot cream over the chocolate chips. Let the chips and cream sit together without stirring for five minutes.
Stir slowly starting from the middle of mixture, slowly add small pieces of butter, whisking until melted into mixture.
Let cool to room temperature before using on cooled browning.
Yields enough to ice one sheet pan.