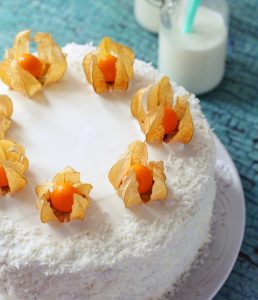 Ingredients
Cake:
200 grams eggs (4 each)
400 grams sugar, granulated (2 Cups)
5 grams vanilla extract
190 grams bread flour
190 grams all purpose flour
9 grams baking powder
300 grams 2% milk
145 grams butter, salted
Frosting:
8 ounces cream cheese
4 ounces butter, salted
5 grams vanilla extract
8 ounces heavy whipping cream
8-12 ounces powdered sugar
300 grams Northwest Naturals Gooseberry WONF #74871
Prep Instructions
Cake: Preheat oven to 350 degrees. Mix eggs on High for 5 minutes. Then gradually add the sugar and vanilla on medium. Scrape down the sides of the mixing bowl. Mix the flours and baking powder together. Then slowly add to the mixing bowl with the speed on low until just combined. Cube the butter into a sauce pan. Add milk and heat until the butter just melts. Slowly add to the egg/sugar mixture on low speed until just combined. Pour into a greased 9×13 pan and bake for 30-35 minutes. Cool completely before frosting.
Frosting: Mix cream cheese and butter on high until thoroughly combined. Add vanilla. Slowly add the powdered sugar on low speed. Then add the heavy whipping cream. once combined turn speed to high for 2-3 minutes.
To Serve: Slice and plate cake. Drizzle with Gooseberry WONF. Top with tiny dollop of frosting. Enjoy!!