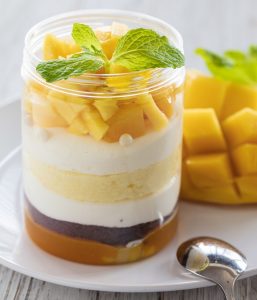 Ingredients
Crust:
100 grams pretzels
20 grams sugar
100 grams butter
Creamy layer:
100 grams cream cheese
100 grams sweetened condensed milk
50 grams sugar
25 grams cold water
5 grams gelatin
25 grams hot water
150 grams heavy whipping cream
Mango topping:
50 grams cold water
25 grams gelatin
250 grams hot water
150 grams Northwest Naturals Kiwi Mango Base #77031
100 grams defrosted mango cubes
Prep Instructions
Directions To make the Crust:
Preheat Oven to 350°f.
Break up pretzels in a food processor until powdery, with just a few bigger pieces.
Melt butter until softened.
Mix butter, pretzels and sugar until well combined.
Press mixture into the bottom of a 9×9 glass pan. Bake for 15 minutes or until there is a slight nutty aroma. Pull from the oven and let cool completely, about 45-60 minutes.
To make the creamy layer:
Measure cream cheese, sugar, and sweetened condensed milk into the bowl of a food stand mixer.
Using the whisk attachment, blend until mixture is smooth, scraping down the sides.
Prepare the gelatin by sprinkling the gelatin over the cold water. Mix and then add the hot water to dissolve the gelatin.
Add to the stand mixer.
Slowly add the whipping cream and whisk on high until stiff.
Spread evenly over the crust and then place in the refrigerator for 1 hour to set.
To make the top layer:
Sprinkle the gelatin over the cold water.
Add the hot water, mixing until the gelatin has dissolved.
Add the Kiwi Mango Base and mix well.
Place the diced mango on top of the creamy layer.
Slowly pour or spoon the mango jello mixture on top of the mango dices.
Refrigerate for 1 hour and enjoy.