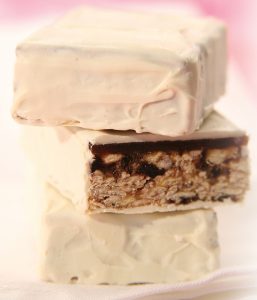 Ingredients
156 grams Tree Top Apple Juice Concentrate
150 grams Tree Top Intermediate Moisture 3/8″ Cubes
100 grams Tree Top Intermediate Moisture Dark Sweet Cherries, Quartered Fruit Leather
78 grams brown sugar
78 grams caramel
75 grams rolled quick oats
200 grams soy crisps
125 grams Short-Chain Fructooligosaccharide
FRUIT LEATHER:
Northwest Naturals Apple Puree Concentrate
Northwest Naturals Elderberry Concentrate
Northwest Naturals Lemon Juice Concentrate
Tree Top Apple Juice Concentrate
Tree Top Cherry Juice Concentrate
Prep Instructions
In a large microwave safe bowl, combine caramel, sugar, and Apple Juice Concentrate. Heat mixture in microwave until melted, stirring every 30 seconds. Combine all remaining ingredients, and stir into melted ingredients. Divide into two medium sized food storage bags. Seal bags, punch air holes and roll into 3/8″ flat sheets. Freeze, and then remove sheets from bags. Cut each sheet into 32 gram bars (approximately 2″ x 3″). Place a Tree Top Cherry Flat Fruit Bar on top of each cut cereal bar, and trim to size. Cover entire bar in yogurt or white chocolate.