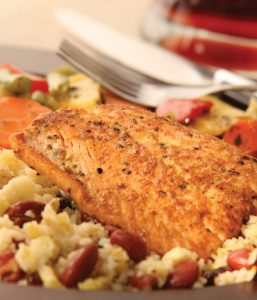 Ingredients
5.7 grams Northwest Naturals Orange Juice Concentrate, 65 brix
3 grams Northwest Naturals Lemon Juice Concentrate
16.5 grams Tree Top Apple Juice Concentrates, 70 brix
113 grams Salmon fillet, pink, deep skinned, 4 ounce
18 grams olive oil, extra virgin
10 grams sea salt, ground fine
1.5 grams black pepper, ground
2 grams crushed red chile pepper
.7 grams paprika, ground Spanish
6 grams Anise seed, whole
.7 grams allspice ground
6 grams fennel seed cracked
3 grams cumin seed, whole
1 gram oregano, leaf, whole
.2 grams cinnamon, ground
.7 grams garlic, chopped, frozen
39 grams orange marmalade
15.2 grams Sherry wine, commercial
115 grams Apple Couscous, refrigerated (recipe follows)
115 grams Charmoula Vegetable, frozen (recipe follows)
5 each – 2 compartment microwave trays with lids
Prep Instructions
1. Thaw salmon fillets and place in flat bottom tray or dish.
2. Mix sea salt, black pepper, chile pepper, paprika, anise seed, fennel, cumin, oregano and cinnamon together in spice grinder or mortar and pestle and grind to a rough ground texture.
3. Rub 1/2 amount of olive oil gently over salmon and dust with seasoning. Refrigerate for 3 hours.
4. Mix together juice concentrates in a small dish and reserve.
5. Preheat, non- stick, flat bottom pan to medium high temperature with reserved olive oil. Pan fry fish fillet, top side down, for 1 1/2 minutes and turn. Reduce heat to medium and cook for additional 2 minutes. Turn again for additional minute and remove from pan at 145°F and place on tray. Brush with reserved juice concentrates and immediately freeze.
6. Prepare Apple Couscous and place in bottom of main compartment, top with salmon portion Prepare Charmoula Vegetable and place in side compartment and freeze entire unit.
Apple Red Bean Couscous
Ingredients
8 grams Tree Top Apple Juice Concentrates, 70 brix
3 grams Northwest Naturals Lemon Juice Concentrate
45 grams Tree Top 3/8″ Cube Evaporated Apple
113 grams dried couscous
142 grams IQF cooked red beans
34 grams dried currents
14 grams extra virgin olive oil
.15 grams dried thyme leaves
1.8 grams finely ground sea salt
1.85 grams ground black pepper
Prep Instructions
On the stovetop, bring 1 quart of water and a pinch of salt to a boil. Add couscous and stir constantly until it reaches a boil; reduce heat to a low boil stirring regularly. Mix olive oil with concentrates, thyme, salt and pepper and reserve mixture. Cook couscous for 5 minutes, until grains are tender and drain in a fine strainer. Run cold water over couscous until chilled. Drain well and place in mixing bowl. Mix reserved olive oil mixture with couscous, apples, beans, and currents. Refrigerate for at least 8 hours. Season to taste and portion while fresh.
Charmoula Vegetable
Ingredients
33 grams Tree Top Apple Juice Concentrate, 70 brix
5.7 grams Northwest Naturals Lemon Juice Concentrate
142 grams IQF blanched carrots, sliced
142 grams IQF blanched green beans, cut to 1½"
142 grams IQF blanched parsnip wedges
85 grams red bell peppers, sliced in squares
27 grams extra virgin olive oil
.7 grams spanish paprika
.4 grams garlic powder
.4 grams dried thyme leaves
24 grams finely ground sea salt
3 grams onion powder
6 grams saladizer gum
Prep Instructions
1. Cut olives in half and freeze with a mixture of the IQF vegetables.
2. Mix thyme, salt, onion powder with the gum and shake slowly into the juice concentrate mixture.
3. Add the parsley and basil.
4. Toss mixture with vegetables last minute and hold frozen.
Heating Instructions:
Remove plastic wrap from tray and place microwave lid on tray. Microwave frozen dish on high heat for 4 to 5 minutes. Let stand for 1 minute covered