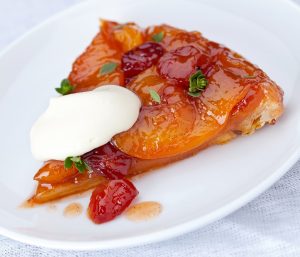 Ingredients
1 premade pie crust, cut into 12 squares
4 ounces granulated sugar
2 tsp ground cinnamon
3 medium ripe nectarines, sliced 1/4 inch thick
2 tbsp butter
.5 ounce Northwest Naturals Nectarine WONF #70247
16 ounces heavy whipping cream
3.5 ounces Northwest Naturals Nectarine WONF #70247
Prep Instructions
Cut the pie crust into 12 squares.
Dock the dough by pricking crust with fork. Mix together the cinnamon and sugar, set aside.
Brush the crust with melted butter and sprinkle with cinnamon sugar.
Bake at 350 until the crust is golden.
Slice nectarines, then sauté in hot sauté pan in melted butter. Cook to caramelize some of the slices. Remove from pan and let cool. Once cool, toss with 1/2 to 1 ounce of Nectarine WONF #70247.
Place the heavy cream in mixer, add the 3.5 ounces of Nectarine WONF. Whip the cream to firm peaks. Chill until ready to use.
Once pie squares are cool, place several slices of sautéed nectarines onto a pie square. Top with some of the whipped nectarine cream. Serve immediately.