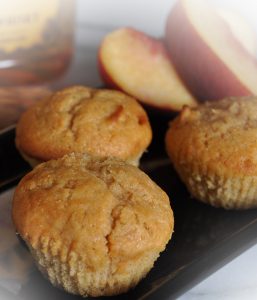 Ingredients
2.24 grams Northwest Naturals Peach Juice Concentrate WONF
9.76 grams Tree Top Peach Fruit Sensations®
2.33 grams Tree Top Pear Fruit Flakes, 20 mesh
4.50 grams Tree Top Peach Puree
20.27 grams cake flour
0.47 grams baking powder
0.28 grams Sea salt, fine
0.20 grams cinnamon, ground
15.90 grams buttermilk
1.40 grams Fireball Cinnamon Whisky
0.20 grams peach flavor
0.21 grams Exberry shade "celestial yellow"
0.04 grams Exberry shade "royal pink"
0.59 grams cinnamon emulsion
10.51 grams butter, unsalted, softened
22.00 grams sugar, granulated
9.30 grams eggs, room temperature
Prep Instructions
Chop apple pieces into smaller pieces and soak in warm water for 15 minutes. Weigh apple pieces after soaking.
Adjust over rack to upper-middle position and heat oven to 350ºF. Spray mini muffin tin with nonstick cooking spray or line with paper cups.
Sift together flour, baking powder, cinnamon and salt in a medium bowl.
Whisk together fruit flakes, peach puree, peach juice concentrate, buttermilk, cinnamon emulsion, whisky, flavor and color until combined.
In a large mixing bowl, beat butter and sugar in a large bowl with electric mixer at medium speed until pale and fluffy.
Add eggs slowly, until thoroughly combined, then scrape down the bowl. Add buttermilk mixture, mix until just combined (batter will look curdled).
Add flour mixture in three batches, mixing until each addition is just incorporated. Stir in the Tree Top Fruit Sensations.
Bake until cupcake tops are golden, 10-13 minutes, rotating pan from front to back halfway through baking time.
Cool cakes in the pan for 5 minutes, then transfer to wire rack and cool completely. Serve immediately or freeze.
Servings: 34