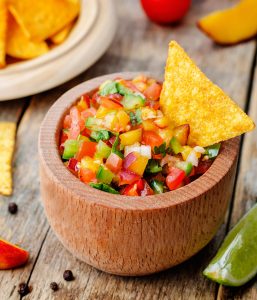 Ingredients
28.34 grams Northwest Naturals Peach Blend – Habanero Type (#57572)
453.59 grams diced tomatoes
453.59 grams red onions
1 lime, juiced
1 Habanero pepper, chopped
226.79 grams peach, diced
2 cloves garlic, minced
56.69 grams cilantro, chopped
salt to taste
pepper to taste
Prep Instructions
Chop all vegetables, fruits and garlic and combine in a bowl. For a more colorful salsa, add 1 green pepper and/or ¼ sliced cabbage. Add 2 tbsp Peach Habanero Concentrate Blend, mix, and add juice from 1 lime. Add salt and pepper to taste. Last ingredient added should be cilantro.
Tip for a salsa sauce: Use 1/2 to a full tomato and blend so it is a liquid/puree form. Add to bowl and mix well.
Serving Suggestions: Great over grilled fish or chicken, or as an added slaw to fish tacos, or just as a dip with chips.