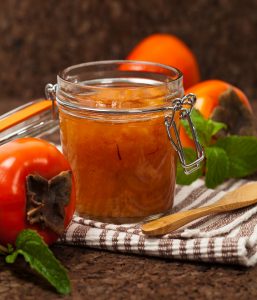 Ingredients
6 ripe persimmons, peeled and diced
1 cup Northwest Naturals Peach Persimmon blend
Prep Instructions
Peel and dice the persimmons. Place in sauce pan.
Cover persimmons with Peach Persimmon blend.
Bring to boil, skim off foam. Turn down to simmer.
Simmer until fruit is soft and jam thickens.
Puree with a hand blender, until small pieces of fruit remains.
Serve with butter and biscuits, or serve as a compliment to a meat dish.