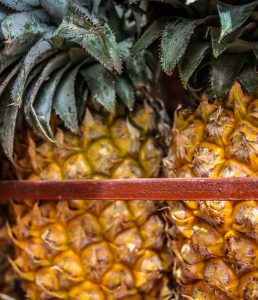 Ingredients
2 ounces Northwest Naturals Pineapple JC #213802
64 ounces water
8 ounces dark brown sugar
4 whole cloves
2 cinnamon sticks
1 pineapple washed and cubed with rind on
Prep Instructions
Combine water and brown sugar until dissolved. Add spices.
Wash fruit, cutting off ends, leaving on the rinds, cut into cubes.
Place in 1 gallon sanitize container. Cover with a coffee filter and rubber band. Let ferment for 3 days.
You should see white foam on top. Strain out juice, if you let it ferment too long it will turn into vinegar. You can garnish with the fruit.