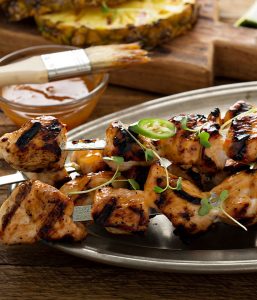 Ingredients
.50 cup Northwest Naturals Pineapple Juice Concentrate (#312802)
.50 cup soy sauce
2 tbsp Rive vinegar
1 tbsp sesame oil
1 tbsp honey
¾ tsp ground ginger
1 medium size garlic clove, minced
¼ tsp red pepper, crushed
2 tsp cornstarch + 2 tsp water
Prep Instructions
Mix Northwest Naturals Pineapple Juice Concentrate, soy sauce, Rice vinegar, sesame oil, and honey together. Mix well and add dry ingredients.
To make the cornstarch mixture: In a separate bowl mix cornstarch and water together, then add to the sauce.
To marinade meat, please ¼ to ½ cup of mixture in with meat. The remaining mixture can be heated on medium to a boil stirring constantly until it becomes thick. Remove from heat and let rest.
Serving Suggestions:
Serve with grilled chicken or ribs and pineapple over a bed of coconut rice.