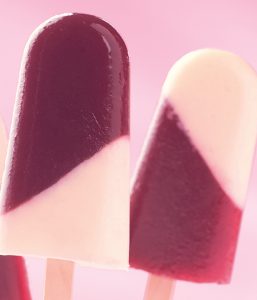 Ingredients
1/2 cup Northwest Naturals Pomegranate Juice Concentrate WONF
1/4 cup Tree Top Pear Juice Concentrate
3 1/2 cups water
Prep Instructions
Mix together juice concentrates with water until well blended. Fill top half of 24 Popsicle molds with mixture and freeze at a 45 degree angle until firm.
Yogurt Base:
Ingredients
1/4 cup Tree Top Pear Juice Concentrate
2-1/2 cups vanilla yogurt
1 tablespoon vanilla
1 tablespoon honey
1 cup water
Prep Instructions
After pomegranate base has frozen, combine Pear Juice Concentrate, yogurt, vanilla, honey, and water in a large mixing bowl. Whisk until smooth. Fill bottom half of the molds with yogurt mixture and freeze until firm.