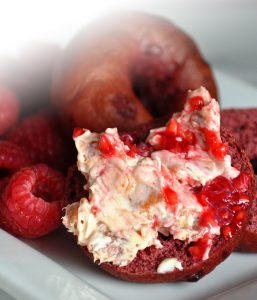 Ingredients
3.07 grams Northwest Naturals Raspberry Juice Concentrate
9.44 grams Tree Top Apple Fruit Flakes
1.30 grams yeast, instant
37.66 grams water
1.89 grams natural raspberry flavor WONF
1.89 grams Exberry shade "red"
15.69 grams bread flour, unbleached
15.69 grams white whole wheat flour
3.75 grams sodium caseinate
0.80 grams Chipotle, powder
1.30 grams Sea salt, fine
1.89 grams sugar, granulated
5.64 grams dried cranberries, chopped
Prep Instructions
Sprinkle the fruit flakes and yeast over the water, raspberry juice concentrate, flavor and color. Mix until dissolved.
Combine all ingredients in the bowl of a standing mixer. Mix on medium-low speed for about 10 minutes. The dough will be quite stiff; if you're using an electric mixer it will "thwap" the sides of the bowl, and hold its shape (without spreading at all) when you stop the mixer.
Place the dough in a lightly greased bowl, and set it aside to rise till noticeably puffy though not necessarily doubled in bulk, 1 to 1 1/2 hours.
Transfer the dough to a work surface, and divide it into 16 pieces (about 28g each). Working with one piece at a time, roll it into a smooth, round ball. Cover the balls with pastic wrap, and let them rest for 30 minutes. They'll puff up very slightly.
While the dough is resting, prepare the water bath by heating the water, malt and sugar (see "bath" formula instructions below) to a very gentle boil in a large, wide-diameter pan. Preheat oven to 400ºF.
Use your index finger to poke a hole through the center of each ball, then twirl the dough on your finger to stretch the hole until it's about 1 inch in diameter (the entire bagel will be about 2.5 inches across). Place each bagel on a parchment-lined baking sheet or silpat, and repeat with the remaining pieces of dough.
Transfer the bagels, four at a time, if possible, to the simmering water. Increase the heat under the pan to bring the water back up to a gently simmering boil, if necessary. Cook the bagels for 30 seconds, flip them over, and cook 30 seconds more. Using a skimmer or strainer, remove the bagels from the water and place them back on the baking sheet. Repeat with the remaining bagels. Spritz bagels with water.
Bake the bagels for 18 to 20 minutes, or until they're as deep brown as you like, rotating the pans halfway through baking. Remove the bagels from the oven and cool completely on a wire rack.
Serving: 1 serving is 2, 24g bagels or 1 55g bagel and provides 5g of protein (a good source).
Bath Instructions:
1814.40 grams water
48.0 grams Barley, malt syrup
12.60 grams sugar, granulated
Mix all ingredients together and proceed as directed in bagel formula.