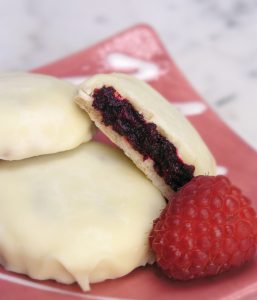 Ingredients
Filling
1 1/2 cups Tree Top Evaporated Apples, Raspberry Colored and Flavored, 1/8″ x 1/8″ x 1/8″
3/4 cup Northwest Naturals Raspberry Juice Concentrate, 70 Brix
1/2 cup Tree Top Apple Juice Concentrate, 70 Brix
1/2 cup Tree Top Drum Dried Apple Powder, 20 Mesh
3/4 cup water
1-1/4 teaspoon ground cinnamon
1/8 teaspoon ground nutmeg
1/8 teaspoon ground anise
1/8 teaspoon ginger powder
0.7 grams salt
1.5 grams natural raspberry flavor
Shortbread Cookie
1 cup softened butter
1/2 cup granulated sugar
1/2 cup light corn syrup
1/2 cup whipping cream
2 teaspoons baking powder
4 cups all purpose flour
1/4 teaspoon butter buds
1/8 teaspoon Vanilla powder
Finished Cookie
16 ounces Belgium white chocolate
60 pieces shortbread cookie rounds
prepared raspberry filling
Prep Instructions
Filling
Bring evaporated apples and water to a boil, stir and cover. Remove from heat and allow to rest for 30 minutes. Add raspberry concentrate, apple concentrate, apple powder and mix until well blended. Stir in all additional dry ingredients and flavor, blend until smooth.
Shortbread Cookie
Preheat oven to 350°F. Cream butter and sugar together in mixer with paddle on medium speed. Sift together flour, baking powder, butter buds, and vanilla powder. When the butter and sugar are well incorporated, add corn syrup and cream slowly, scraping the sides and bottom of the bowl with spatula. Add flour mixture slowly in three parts, incorporating each portion and scraping the sides after the last addition. Prepare baking pan with parchment paper sprayed with oil. Roll out dough flat to ¼" thickness; using a 2″ cookie c utter, cut dough into rounds. Lift dough with two flat spatulas onto baking tray. Handle the dough quickly, covering with plastic wrap after each rolling and bake immediately for 15 minutes, just to set the dough and very lightly brown. Remove from oven and cool on tray.
Finished Cookie
Assemble cookies and filling, and enrobe in white chocolate.