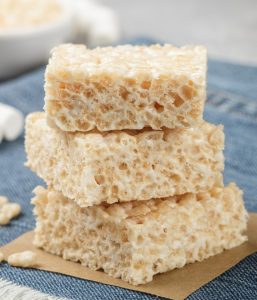 Ingredients
12 ounces Sweet Peach Tea Marshmallows
4 ounces browned butter
6 cups rice crisp cereal
flaked salt
Prep Instructions
In saucepan brown the butter.
In glass bowl place the marshmallows and pour over the browned butter.
Place in microwave for 60 seconds. Stir well, marshmallows should be warm and melted.
Pour the rice crispy cereal into the melted marshmallow mixture. Stir well until all of the cereal is coated.
With greased gloves on pour the mixture into a greased 9 x 13 pan.
Sprinkle the top with flaked salt then press the mixture into the pan.
Let chill in the fridge until fully chilled. Cut into squares and serve.