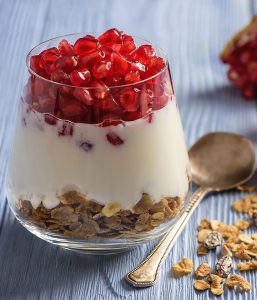 Ingredients
3 ounces Northwest Naturals Pomegranate Ginger WONF #68021
4 cups roasted spent grains
1/4 cup pepitas and sunflower seeds
1 cup mixed dried fruit: prunes, dates, dried cherries, cranberries, candied ginger
1/2 cup coconut flakes
1/2 cup maple syrup
1/4 cup honey
1/3 cup brown sugar
1/4 cup butter
Prep Instructions
Squeeze grains well from the liquid. Toast the grains at 350ºF until the desired degree of toasting, texture is reached. Cool and put in bowl.
Add seeds, chopped dried fruit, and coconut flakes.
Heat maple syrup, honey, brown sugar, and butter in sauce pan till at a low boil. Remove from heat, allow to cool 5 minutes.
Add the Northwest Naturals Pomegranate Ginger WONF to the sugar syrup and mix together.
Drizzle over the grains and mix until grains are evenly covered and lightly sticky.
Line an oven-safe pan with parchment paper. Spread grain over the parchment and press into place till about ¼ inch thick.
Bake at 350ºF until just starting to darken in color, about 20 minutes.