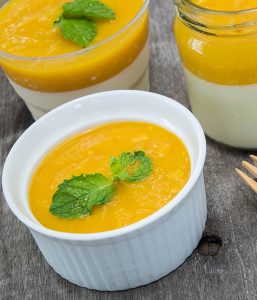 Ingredients
454.0 grams Northwest Naturals Pineapple Juice Concentrate (213802) or Crushed Pineapple
72.0 grams Northwest Naturals Passion Fruit Juice Concentrate (213501)
22.0 grams granulated sugar
1 tsp unflavored gelatin
454.0 grams heavy cream
454.0 grams whole milk
2 tsp vanilla
64.0 grams water
15.0 grams unflavored gelatin
100.0 grams granulated sugar
Prep Instructions
Fruit Layer: Drain the crushed Pineapple with Passion Fruit Juice Concentrate and sugar.
Dissolve gelatin, in pineapple juice concentrate and combine well. Add to fruit mixer. Place fruit mixture in cups and freeze.
Custard: Combine cream, milk and sugar in saucepan. Heat just until sugar dissolved. Bloom gelatin in water. Heat in microwave until liquid. Add vanilla to cream mixture and stir in liquid genatin. Make sure the gelatin is fully melted into the milk mixture. Pour warm mixture over the frozen fruit base. Chill in the fridge 30 to 4 hours until set.