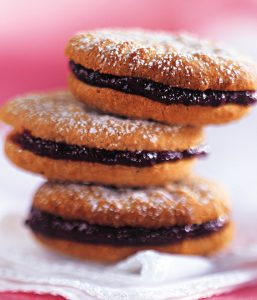 Ingredients
54.4 grams Tree Top Apple Flake Powder
61.75 grams Tree Top Apple Sauce
340.5 grams salted butter, softened
180 grams confectioners' sugar
12.6 grams vanilla
4.2 grams almond flavoring
375 grams flour
Filling:
¾ cup Tree Top Blackberry Puree
217.6 grams Tree Top 32 Mesh Apple Flake Powder
18.98 grams Northwest Naturals Mixed Berry Flavoring
237 grams water
82.5 grams pear
164 grams corn syrup
Prep Instructions
Cream butter in a medium bowl at medium speed. Add confectioners' sugar and apple flake powder and beat until smooth. Add applesauce, vanilla and almond flavoring, mix until creamy. Scrape bowl. Add flour and mix at low speed until thoroughly combined.
Gather dough into two balls and flatten to disks.
Wrap dough tightly in plastic wrap or place in an airtight plastic bag.
Refrigerate for 1 hour or until firm.
Preheat oven to 325° F.
Using a floured rolling pin, roll dough on floured surface to a little less than ¼" thickness. Cut out 2-inch rounds with cookie cutter or inverted glass. Repeat until all dough is used. Be careful not to overwork the dough.
Place cookies on ungreased cookie sheet, ½" apart. Bake 14 minutes or until firm. Transfer to cool, flat surface with spatula.
Filling:
Mix all ingredients together and bring to a boil, stirring constantly. Reduce heat to a simmer, continuing to stir, until thick consistency is reached. Cool.
When cookies and filling have cooled completely, spread ½ teaspoon of filling on one cookie and top with another. Makes approximately 2 dozen cookies.