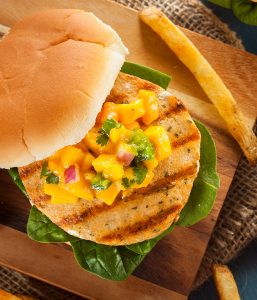 Ingredients
454.0 grams Northwest Naturals Mango Puree (276003)
6.5 grams Northwest Naturals Lime Juice Concentrate (212801)
58.0 grams Rum, white
123.0 grams honey
117.0 grams rice vinegar
5.0 grams olive oil
4 fillets protein or salmon
170 grams onions, chopped
5.0 grams cloves garlic, minced
11.0 grams ginger, fresh minced
0.5 grams five spice powder
0.5 grams cumin
1.0 grams cayenne pepper
2.0 grams salt
2.0 grams black pepper
Prep Instructions
Sauté chopped onions over medium heat until soft. Add garlic and ginger. Don't let onions brown.
Add Northwest Naturals Mango Puree into blender base. Top with sauteed onions mixture and puree until smooth.
Add the remaining ingredients and puree again.
Serve as a side sauce, or based on fish while grilling.
Goes well with salmon.