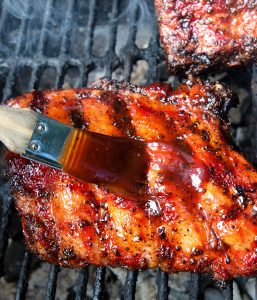 Ingredients
0.50 cup Northwest Naturals Blood Orange Tangerine Blend (#223405)
1.875 cups tomato sauce, canned
0.50 cups butter (1 stick)
1 tbsp Worcestershire sauce
0.50 cup apple cider vinegar
1 tbsp garlic powder
1 tbsp onion powder
½ tsp crushed red pepper
0.333 cup brown sugar
1 tsp Cumin
1 tsp ground mustard
1 tsp salt
Prep Instructions
First roast the jalapéno. Add jalapéno, Worcestershire sauce, apple cider vinegar and canned tomatoes together in a blender until smooth.
In a medium pot, melt butter and brown sugar until sugar is dissolved. Add Northwest Naturals Blood Orange Tangerine blend and the ingredients from the blender to pot and cook on medium heat. Add remaining spices to the mixture. Bring to boil on medium heat. Stirring constantly, let cook for 3-5 minutes. Remove from heat and let rest/cool down.
Serving Suggestions:
Would be delicious basted on the grill with chicken, shrimp, and ribs, or served on the side after meat has been cooked.