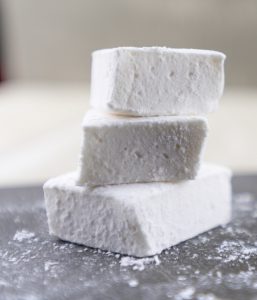 Ingredients
21 grams unflavored gelatin
227 grams cold water,divided
298 grams granulated sugar
312 grams light corn syrup
1/8 teaspoon salt
confectioners' sugar
1/4-1/2 Cup Northwest Naturals Peach WONF Tea Type #79511
Prep Instructions
Combine the gelatin and 1/2 cup cool water in the bowl of an electric mixer fitted with the whisk attachment. Mix briefly to combine; set aside.
Combine the sugar, corn syrup, salt, and 1/2 cup of cool water in a small, deep saucepan. Cook the mixture over medium heat, stirring, until the sugar dissolves.
Raise the heat to high and cook, without stirring, until the syrup reaches 240°F on a candy thermometer. Remove from the heat.
With the mixer set on low speed, slowly pour the sugar syrup into the softened gelatin. Increase the speed to high, and whip until the mixture is very thick and fluffy, and has cooled to lukewarm, 3 to 10 minutes. Toward the end of mixing, pour in juice blend. The mixture should be cool enough that you can spread it into the pan without burning your fingers, about 95°F.
Pour the marshmallow mixture into a pan that has been greased, and covered in greased parchment. Smooth out with greased spatula.
Sprinkle confectioners' sugar over the top, and let sit for several hours (or overnight) before cutting. Use a greased knife or cookie cutters to make squares or other shapes.
Toss cut pieces with confectioners' sugar and serve or store wrapped air tight.