It's plum season, and we are highlighting this underrated fruit as September's Flavor of the Month. While it isn't the most popular fruit or a classic flavor we all know and love, Northwest Naturals wants to bring more attention to this delicious, adaptable, and colorful fruit to give it the acclaim it deserves!
Popular all over the world, plum trees are grown on every continent except Antarctica. While there are over 140 varieties of plums sold in the U.S., there are two main kinds: European and Japanese. There's very little information on European plums, but it is known that their Japanese cousins originated in China over 2,000 years ago.
This fruit also comes in various skin colors, from blush pink to deep purple and bright yellow to blood red. NWN offers a Red Plum Juice Concentrate and sources their plums from either the U.S. or Chile, depending on the time of the year and rotating on the growing season. It's a product that is reliable and available year-round. It is adaptable and creates a balanced taste in many products while adding a pretty red-toned color, making for a beautiful finished product.
The Plum is a stone fruit—a pitted fruit with a fleshy exterior—and comes in a wide range of shapes, sizes, and especially skin colors. Its flavor varies from extremely sweet to quite tart and can be enjoyed fresh, baked, stewed, or pruned. Some plum varieties are specifically bred to be dried and still retain their sweetness, mainly for prunes.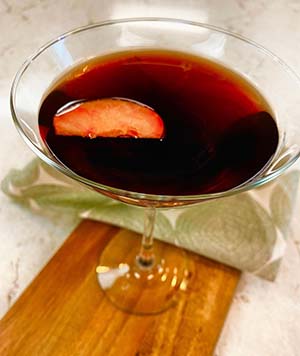 Plums are as diverse in taste as they are in how they can be consumed. They are commonly used in baked goods, but at NWN, we love pushing the envelope and have created various applications with it, from cocktails to frozen delights to dressings and even cheeses. We recently adapted a baked good recipe into a cocktail, creating a Spiced Plum Manhattan with cinnamon, nutmeg, and bourbon. We're also working on a plum sorbet with subtle hints of warm spices — just in time for the spicy fall season!
Our team would love to see the NWN Plum Juice Concentrate used in more projects and test it in new applications like hard apple cider, dressing, and even frozen foods. We're just waiting for a company as courageous as us to work with! If you're looking for a new flavor that has not yet hit the mainstream market and want to explore ideas – let's talk!