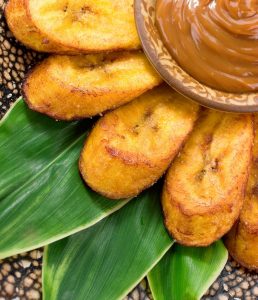 Ingredients
1 sweet onion, minced
1-1/2 Tablespoons ginger, minced
1 whole Serrano, minced
1 garlic bulb,minced
3/4 cup apple cider vinegar
2 cups Banana WONF #74148
2 whole allspice berries
1 teaspoon Lime JC #212801
1 Tablespoon dark rum
1 teaspoon salt
1 teaspoon black pepper
1 teaspoon cayenne pepper
2 teaspoons corn starch
Prep Instructions
Over medium heat, sauté minced onion in a light oil for 5 minutes. Add ginger and serrano, sauté an additional 3 minutes. Add garlic and sauté 1 more minute.
Increase temperature to medium high and add vinegar, lightly boiling to reduce it. Remove all from pan and puree with immersion blender.
Return puree to medium high temperature sauté pan and add all remaining ingredients. Cook until thickened.
Cool and serve, or proceed with canning process.