At Northwest Naturals, we're at the forefront of creating new and unique applications with leading companies worldwide. Naturally, we have the inside scoop on new products making a splash in the industry and what applications are becoming the trending product for the season. With that in mind, we are calling non-alcoholic cocktails the next big trend on the rise- one that may be here to stay!
There's something about wanting to be part of the party and enjoy the social aspect of gathering with friends and family without the health concerns of alcohol or the hangover the next day. There are endless reasons why someone would want a cocktail without alcohol; whatever the reason, having non-alcoholic cocktails readily available is becoming increasingly normal every day and an important part of the industry.
A demand for non-alcoholic beverages grew during the pandemic, where people were forced to focus on their health and wellness. At the same time, it was easier to start celebrating happy hour earlier with more time at home, leading people to consume more alcohol than ever before. Eventually, people began to look for ways to cut back on their alcohol intake while still enjoying a casual drink after work. That's when the demand for non-alcoholic beverage options spiked, and we began receiving more inquiries about this especially within the beer and seltzer or flavored water space. To learn more about seltzers as the trending beverage all year round, visit our previous blog post.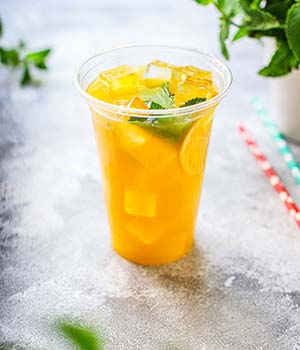 Non-alcoholic beverages are seen as a guilt-free indulgence because they're taking the place of alcohol, yet one can still relax with them and enjoy the delectable taste. When creating a non-alcoholic beverage, keeping the whole experience one would have with a cocktail is essential. The application must engage all of the senses. The beverage should include an enticing aesthetic, a pop of aroma upon the first sip, and of course, the mouthful feel that alcohol gives along with a unique taste that differs from all other beverages. The NWN team does all they can to replicate the entire experience without the alcohol and hangover!
In response to this demand, the NWN team created delightful products inspired by classic cocktails such as margarita, mules, piña colada, and hurricanes– all alcohol-free. Our R&D team also crafted juice blends to imitate classics such as a Blackberry Bramble with blackberry & lemon and a Blackberry Lavender Lemon Drop. We continue testing different flavor combinations using citrus as the key element with flavor combos such as lime & orange or pineapple & lime. Since pineapple is often mixed in cocktails, we've successfully experimented with various pineapple-infused combinations using herbs and spices to create pineapple mint, pineapple spice, cayenne pepper flavors.
With a world that's more health-conscious than ever, we see the demand for unique non-alcoholic beverages as a trend that will keep growing and existing alongside alcoholic beverages. Whether for "Dry January" or a change in lifestyle, consumers now have a wider range of comparable non-alcoholic options to choose from. If you're interested in creating the next hit non-alcoholic beverage, contact us!