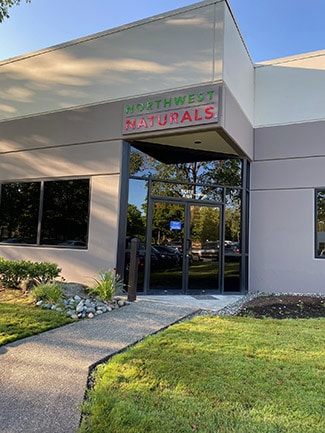 At Northwest Naturals HQ, we've been busy developing quality fruit juice concentrates while settling back into the office after over a year of working from home. With the return of employees to the office and many milestone achievements happening across departments, we have a lot to celebrate! Here's what the NWN team has been up to for the first half of 2021, along with outstanding achievements we'd like to share with you!
While we've always practiced a hybrid approach of working from home and working in the office, we're fortunate to have the majority of our employees vaccinated, healthy, and back in the office after a year of uncertainty. There's something about having conversations and collaborating in real life that cannot be replaced by virtual meetings and direct messages. Upon their return, employees were delighted to see that a fully-stocked snack area was implemented for them to enjoy and refuel throughout the day. We're keeping this stocked with a good mix of healthy snacks and guilty pleasures, all free for staff to take from whenever a craving kicks in. Even with a fully stocked snack area and accessible communication with team members, we are allowing folks to work from the comfort of their home at least once a week.
As regular office life returns, we are thrilled to celebrate significant milestone anniversaries for three of our employees, Twyla (Accounting), Juan (Production), and Darren (Sales)! We are proud that they have been part of the Northwest Naturals family for 25 to 27 years! Darren has been with us since high school, back when one could work part of the school day and have it counted as credits, and has remained an asset to NWN ever since! We love creating a workplace where personnel can grow into various departments and still enjoy what they do decades later.
Our R&D team is also celebrating the upcoming installation of a new walkin freezer and fridge just for their department! This may seem like a small feat, but for our busy R&D team, this will help improve lead time as they can easily access tools or ingredients and pull out samples to send to customers. Currently, they have to make a trip over to the production floor to pull out samples and ingredients, which could be disruptive journeying across buildings during peak seasons and busy days. It's a win-win all around! Not only does R&D benefit, but ultimately our customers do too with a now faster turnaround in receiving samples.
We'd also like to recognize our Food and Safety Manager, who recently led us in passing our yearly SQF audit, scoring over 90%! They are in charge of all of our audits from a federal to state level for two decades! They do a fantastic job keeping us in compliance and have a track record of scoring above average across audits.
With all these exciting milestones and expansion at HQ, we are gearing up for new positions to fill in the months to come. Keep an eye out for official job postings we'll be posting on our social media accounts as soon as they're available.