Cranberry is Northwest Natural's featured flavor for November and one of the most popular fruits during this time of year — the holiday season. While they are typically available in stores year-round, their peak growing season is October until December. Perhaps a driving reason behind its popularity in the fall to the winter seasons.
Cranberries are one of the few fruits native to North America, with Massachusetts, Wisconsin, New Jersey, Oregon, and Washington leading the production lines. Contrary to popular belief, they are made of about 90% water, but they are not actually grown in water. Instead, cranberries are stored in water as a natural way to preserve the fruit from freezing or hot temperatures, keeping them fresh for up to two weeks. Another fun fact about this fruit is that Natives and early settlers used their deep red color to dye blankets, clothing, and rugs. They are also considered a superfood with many health benefits and were once used as medicine and believed to cure wounds and other ailments. Now they are linked to reducing the risk of cardiovascular diseases to preventing urinary tract infections. Is there anything this fruit can't do?
The fruit's diversity remains true in the various ways it can be used as in the many ways it can be consumed. Northwest Naturals offers various cranberry flavored products such as Juice Concentrate, Juice Blend, and Fruit Essence, used in raw, baked, and even frozen applications. And while they are included in various recipes, they aren't as compatible with many flavors. Its overpowering tart flavor profile pairs nicely with select fruit, botanical, and spicy flavor profiles.
The NWN team has found cran-raspberry, cran-strawberry and cran-grape, the most popular pairings amongst our customers. We often see it pair best with warm spices, maple and mulled flavors and especially great in alcoholic beverages particularly with darker spirits. One of the most unique blends we have experimented with is the cran-cucumber created for a cider company located in Portland, Oregon. It is an interesting and polarizing flavor combination, with cranberry's tart and astringent flavor profile mixed with cucumber's herbal and refreshing notes. Not everyone loves it, but those who do are big fans of the contrasting taste!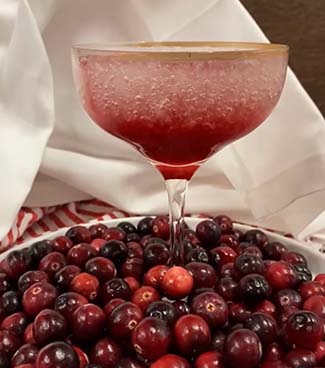 We also recently experimented with a Cranberry Horseradish Mustard Recipe and Frozen Cranberry Sake applications — we highly recommend giving them a try! We have also noticed that cranberry's seasonal character has been used to create a memorable holiday application, giving the typical pumpkin spice craze a run for its money. We see this as a great alternative holiday flavor profile for the over-saturated pumpkin spice market – something more customers are beginning to experiment with.
We would love to see this fruit become the new seasonal craze and would be delighted to work with you on the next application. Contact us today to explore the possibilities!