This month's Flavor of the Month is classic Cherry, a fruit that is wildly popular in all of its iterations that can range from fruit juices, baked goods, syrups, confectionery treats, sauces, liqueurs, alcohol, and more! With notes that vary from tart to sweet, to a rich flavor experience, cherry is as versatile as it is tasty. Their adaptability is a big reason why this flavor has remained a staple fruit flavor for decades.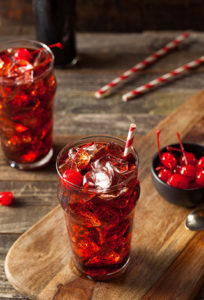 Did you know, the United States is the second largest producer of cherries, right behind Turkey as the top grower? The largest growing regions within the U.S. include Washington state, Utah, Michigan, and California. At Northwest Naturals, we offer various cherry fruit juice concentrates providing a blend of quality, domestic cherries that retain the characteristic flavor and color of the whole fruit. NWN's 211101 Dark Sweet Cherry Juice Concentrate is one of our most popular as well as 211205 RSP Cherry Juice Concentrate. Our team has enjoyed creating various applications using cherry juice blends and has recently seen black cherry making a comeback in sparkling water, hard seltzers, popsicles, and sport beverage applications. We've also experimented with cherry-flavored tea in our latest recipe, Cherry Green Tea Syrup using NWN RSP Cherry Juice Concentrate WONF 221249. Give it a try and share below what you think!
These heart-shaped fruits have moved beyond the traditional American pie to garnering notoriety for being a superfruit with many health benefits. Cherries are nutrient-dense and are known for aiding with sleep, muscle recovery, gut health, heart health, and arthritis, amongst other ailments. This has correlated to a new trend of mixed pomegranate cherry used by customers looking to add antioxidants and immunity-boosting properties to their product, utilizing Northwest Naturals' Mixed Fruit concentrate WONF and WOOF Organic Fruit Concentrate.
With the ever-popular cherry fruit and its robust flavor, there are infinite possibilities for delicious recipes and applications to be created. Northwest Naturals can work with any company looking to include this fruit flavor in their next application.