Summer is near, and with it comes the start of peach season. Like the plum and the apricot, the peach is a member of the rose family (Rosaceae) and can be distinguished by its velvety skin. With harvest beginning in June and lasting until the end of August, these fruits are known for their sweet, juicy, and sometimes sour flavors that provide surprising health benefits and lend themselves to various uses.
Originating from Northwestern China, the Spaniards brought peaches to South America, and the French introduced them to Louisiana. The English took them to their Jamestown and Massachusetts colonies, and Columbus brought peach trees to America on his second and third voyages. It seems this tasty fruit was bound to make a pit stop in America.
Currently, China remains the world's largest peach producer, with the United States providing about one-fourth of the world's total supply of peaches. But, surprisingly, within the U.S., California takes the lead as the top producer, with Georgia coming in right behind. Fun Fact: California is also where Northwest Naturals sources their peach concentrate from!The NWN Peach Juice Concentrate has risen in popularity; we suspect it may be because of its buildable taste that blends nicely with more potent flavors such as mango, apricot, and even botanical and herbal flavors. The peach botanical or herbal pairing has also become a trending flavor combo in many hard seltzer beverages (learn more about what's trending in the seltzer world by visiting our last blog post ). Other high-demand NWN peach products include Peach Tea #85506, Peach Ginger #85441, Peach Apricot #86568, and Peach Pie Type 223606- another leading flavor with cider-producing companies.
We weren't joking when we said peaches play well with a variety of applications. For example, one can include fresh peaches in sweet, spicy, savory foods or confections; they can also be used fresh, sauteed, baked, or even grilled. We had our fun testing various applications and experimented with our very own Peach marshmallow recipe, which turned out quite delicious, if we must say so ourselves. Check out our recipe here, and try it for yourself.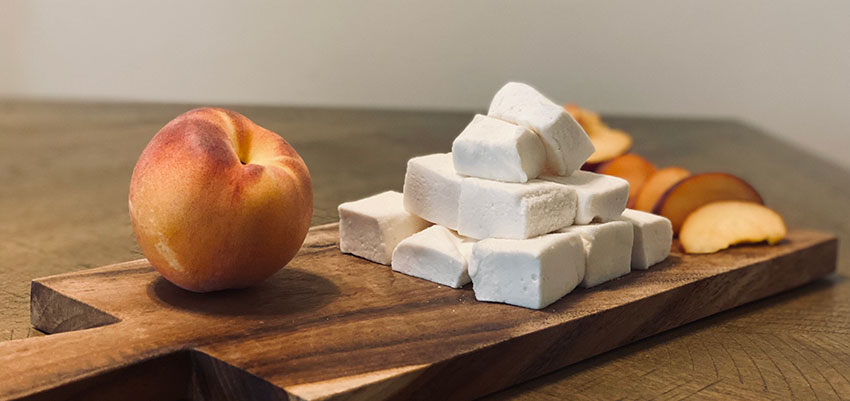 Whether we're creating the next best peach chutney on the market or creating a new beverage with health benefits (like Peach Ginger), we love providing the perfect solution for our clients. So, are you looking to bring your application to life? Contact us or request a sample today!