Mocktails have taken the cocktail industry by storm as the quintessential accessory of a social night out without the health detriment or hangover of traditional alcoholic beverages. Regardless of why a person might want to avoid alcohol, mocktails (or non-alcoholic cocktails) are a trend that is here to stay.
In a podcast by "The Marketplace Morning Report," mocktails have expanded rapidly in recent years due to a rise in product quality as well as a broader public interest in decreasing alcohol intake. According to research by Nielsen, the growing "sober curious" movement is primarily driven by younger people seeking healthier alternatives to traditional drinks.
According to Business Insider, "non-alcoholic spirit sales nearly doubled in 2022," while Nation's Restaurant News reported increased listings on restaurant menus by 223% since 2019 with only a forecast of growth in the coming years. Entering the market for mocktails is a must for businesses that want to continue to compete in the industry. Our flavor experts at Northwest Naturals recommended taking advantage of the mocktail mania and, with our support, we can help you create something truly exceptional.
How to Replicate the Taste of Cocktails without Alcohol
Northwest Naturals has been a leader in the juice concentrate industry for over 40 years, and our goal is to help our clients reach their flavor goals no matter their specialty. To replicate the taste of cocktails without alcohol, we recommend using quality ingredients to optimize the flavor of your drinks. Choose fresh fruits, high-quality juices, and garnishes to create vibrant flavors.
We also recommend adding a hint of bitterness to replicate that common cocktail characteristic. You can do this by adding a few drops of non-alcoholic bitters or using tonic or soda water.
Additionally, consumers' eyes are the first to take in a product. Present a mocktail in the same eye-catching, attractive way you would for a cocktail. That means using appropriate glassware and garnishes, like martini glasses, highball glasses, fancy coupes or citrus twists, fruit wedges, herbs, and cocktail umbrellas! Have fun with it!
You can also experiment with non-alcoholic spirits. With the rise of mocktails, there is an increasing availability of non-alcoholic spirits on the market designed to mimic the flavors of traditional liquors. You can substitute spirits in mocktail recipes to provide a more authentic taste.
For a successful mocktail, the application must engage all of the senses. The beverage should include an enticing aesthetic, a pop of aroma upon the first sip, and the mouthful feel alcohol gives with a unique taste that differs from all other beverages. If you need support, the Northwest Naturals team does all it can you replicate the entire experience without the alcohol and hangover! Contact us today to get started!
Mocktail Inspiration
In response to this demand, the NWN team created delightful products inspired by classic cocktails such as margaritas, mules, piña colada, and hurricanes– all alcohol-free. Our R&D team also crafted juice blends to imitate classics like a Blackberry Bramble with blackberry & lemon and a Blackberry Lavender Lemon Drop. See below for simple mocktail recipes to use as inspiration!
Contact us for more recipe ideas. Below are some great ideas from other resources.
---
Margarita Mocktail Recipe
By Liz on Call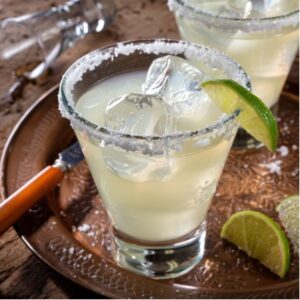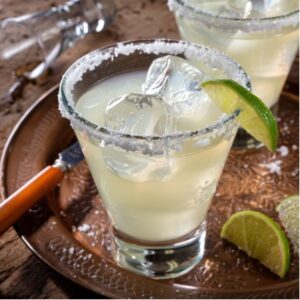 Ingredients
2 cups limeade
3/4 cup orange juice
1/4 cup simple syrup
1/2 – 1 cup club soda
Sugar and coarse salt for the rim
Limes for garnish
Ice
Instructions
In a small pitcher, mix limeade, orange juice, and simple syrup.
Mix equal parts sugar and coarse salt and pour onto a plate.
Slice lime and run lime slice around the rim of each glass and then dip it into the sugar/salt mixture to coat the rim of the glass.
Fill the glass 1/2 full with ice.
Pour the limeade mixture into the glass, almost to the top of each glass.
Top off the glasses with a little club soda.
Add a lime wedge to squeeze into each drink.
---
Shirley Temple Mocktail Recipe
By The Mindful Cocktail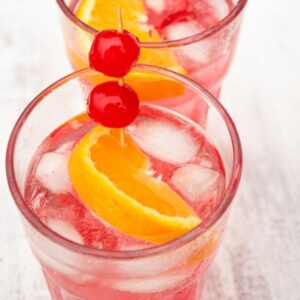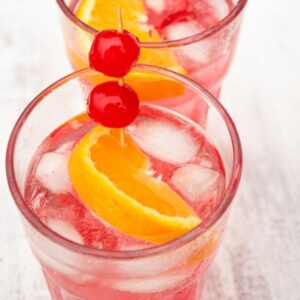 Ingredients
1 cup ginger ale
1 teaspoon grenadine
1 squeeze of fresh lime juice
Maraschino cherries to garnish optional
Instructions
Add ginger ale, grenadine, and lime to an ice-filled glass and stir.
Garnish with a maraschino cherry and serve.
---
Sparkling Grapefruit Mocktail Recipe
By My Budget Recipes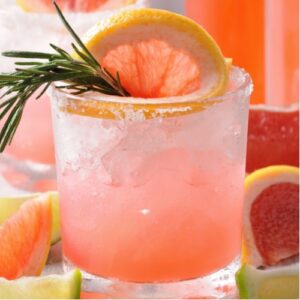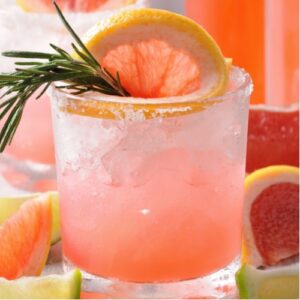 Ingredients
1/2 Cup of Soda Water.
1/4 Cup of Freshly Squeezed Pink Grapefruit Juice (or you can use fizzy grapefruit soda if you have it)
1spn of sugar
Sparkling Water or Soda Water (optional)
Handful of mint leaves
Fresh lime sliced in quarters
A handful of ice cubs
Instructions
Muddle together your sugar, mint leaves, and sugar in your cocktail mixer or large glass until the sugar has dissolved.
Add in your freshly squeezed grapefruit juice or soda and mix them all together.
Add ice to a glass and pour in your mocktail mix.
If you want more liquid in your glass, then top with Soda Water or Sparking Water.
Garnish with a few mint leaves and a slice of life.
---
Let's Make Some Mocktails!
With a world that's more health-conscious than ever, the demand for unique non-alcoholic beverages will keep growing and existing alongside alcoholic beverages. Take advantage of opportunities to ride this shift in consumer behavior. Mocktail mixes, canned mocktails, and more alcohol-free items are hitting the shelves and are improving in quality as time goes on. Hop on the trends and create something delicious! Create your next bestselling non-alcoholic beverage, and contact us today!