TreeTop is a cooperative of growers transforming excess and unattractive fruit into delicious products for families to enjoy. Northwest Naturals is proud to be part of the TreeTop family for over 20 years, but many ask, how did the two companies combine forces?
It all started in 1990, about 10 years after Northwest Naturals was founded, when we were forced to reimagine how we produce our blended juice concentrate. During that season, there was a shortage in the cranberry crops, resulting in more than triple the cost per gallon of these wildly popular fruits. In addition to rising crop costs, we also began noticing many of our customers would source five or more ingredients from multiple vendors and blend the fruits themselves to create one juice concentrate to fulfill their application. We quickly realized that it would save everyone, especially clients, time and money if NWN could take over this part of the process for them. That was when we expanded our WONF and organic WOOF products to find a solution to meet the market's demands.
Fast forward ten years later to the year 2000, when the office building owners where NWN operated decided not to renew our lease, leaving us in a scramble to find a new property that could meet our production needs. We then moved to our current HQ location in Bothell, WA, and with that move also came the decision for the NWN Founders, Gary Maddux and Max James, to sell the company.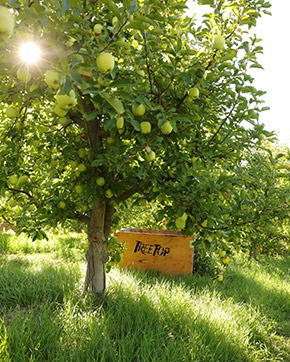 Working in a small, niche industry where most companies know one another, Northwest Naturals had an existing relationship with TreeTop by co-manufacturing together. NWN would source the fruit needed to create the juice concentrate to fulfill the recipe for an application TreeTop was making. In addition to collaborating on projects, Northwest Naturals was also using TreeTop's processing facilities to blend all large batch orders of over 1,000 gallons. Because we had been successfully working with one another, TreeTop was the natural choice to acquire Northwest Naturals, and we organically blended our companies together.
Over 20 years later, the TreeTop x Northwest Naturals relationship is as strong as ever. NWN remains a wholly-owned subsidiary that operates independently, though we continue to collaborate on various projects, including sharing knowledge and recommendations. It is also common for the two companies to recommend customers or projects when their offering is insufficient to meet the client's needs. It's safe to say, if one company can't help a client by themselves, the other company can likely fill the gap with their unique product offerings.
Aside from working well together, the two companies operate very differently and provide very different products. For example, TreeTop, most famous for its applesauce and apple juice, offers a branded product sold in stores throughout the United States and Canada. In contrast, NWN provides the secret ingredient of fruit juice concentrate that no one knows explicitly about but enjoys in a finished product. Another big difference is that TreeTop is part of a farmers' cooperative and sources its apples from their own community; NWN sources various fruits from the top suppliers worldwide. In short, you can think of NWN as the "secret" juice concentrate supplier for different fruit flavors, while TreeTop is the leading supplier of apple-based food products found in retailers throughout North America.
We've enjoyed our fruitful relationship with TreeTop and look forward to many more years of this bountiful working relationship.