We're closing summer with what we consider to be one of the juiciest and most refreshing fruits of all – watermelon! While we did call it a fruit, did you know, watermelon is often considered a vegetable amongst growers? Thanks to their sweet taste and heaps of seeds, watermelons are most commonly labeled a fruit. Still, many gardeners consider them a vegetable since they grow in their gardens alongside other summer veggies like squash and corn. Also, watermelon is part of the botanical family of gourds that includes other vegetables like cucumber, squash, and pumpkin. But for the sake of this post, we'll settle on calling it a fruit.
Watermelons have been cultivated in Egypt for more than 5,000 years. In fact, drawings of watermelons can be found in Egyptian tombs and were often left as offerings for their dead. The fruit spread from Africa to China in the 10th century, and today, China grows more watermelons than any other country. The U.S. ranks fourth in the world for watermelon production and produces more than 4 billion pounds annually while consuming more of this fruit by weight than any other fruit. Because watermelons are native to Africa, they require hot sunny conditions to thrive, making states like California, Arizona, Texas, Florida, and Georgia its top producers.
With over 1,200 varieties of watermelons, the most common has red flesh, while other types have white, yellow, orange, or even green flesh. It is often believed that seedless watermelons are genetically engineered, though the truth is they are a result of hybridization, a natural phenomenon that farmers can capitalize on and consumers tend to prefer. However, by removing the seeds, you lose the most nutritious part that contains high magnesium, zinc, and protein levels.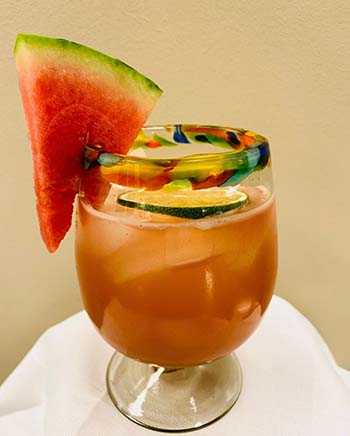 Watermelon is typically eaten raw, though they can also be enjoyed candied, pickled, grilled, in salads, soups, plainly juiced– the list continues. It is a versatile fruit that blends well with many flavors. We often recommend Northwest Naturals Clarified Watermelon Juice Concentrate 307605 to clients who are looking for a great juice concentrate base to build taste from and want a flavor that is consistent in taste and cost, year over year. In our experience, alcoholic and non-alcoholic beverage companies most commonly use the NWN Clarified Watermelon Juice Concentrate, especially with beer and cider producers. However, with the new trend favoring hard seltzers and mocktails, we've seen an increase in orders for these applications. (To learn more about what's trending in the hard seltzer world, read our previous blog post). A newly emerging product we recently worked on is alcoholic-infused popsicles. They were a hit amongst all parties involved, and we wouldn't be surprised if they became the next sensation in the seasons to come. We're also excited about a new watermelon cider product that we can't wait to see out on the market! Behind the scenes, our R&D team has been busy creating out-of-the-box concoctions with our FOTM, like a delightful watermelon mojito pop recipe. And had recently showcased a brand new flavor combination of watermelon + ginger to invoke Moscow mules. Spoiler alert: not only was it tasty, but it also has many health benefits!
With the various ways watermelon can be enjoyed, we're ready to continue experimenting with new recipes and take on projects that push the envelope. If you're looking for a company to partner with for your next application, contact us!