We are kicking the year off highlighting a bitter, nutrient-rich, dubious fruit: grapefruit. It can be a polarizing fruit, with people loving or hating its tart and bitter taste. However, its health benefits make it wildly popular in many parts of the world and particularly enjoyed as a staple breakfast item. Due to its high water content, rich nutrients and antioxidants, this superfruit is a great source to aid good health. When picking the perfect grapefruit, a good rule of thumb is to look for a firm and springy fruit and know that the heavier the fruit, the juicier.
The general American population seems to love this fruit as it is the largest consumer of grapefruit. It is grown in California, Arizona, Texas, and Florida, although native to the East and West Indies. It is said grapefruits may have been a horticultural accident or deliberate hybridization between the pummelo and the orange.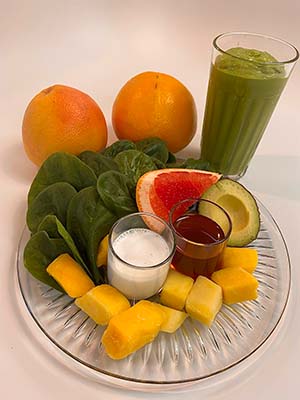 At Northwest Naturals, we are big fans of this superfruit and offer a wider variety of grapefruit products than many other companies. From pink and white grapefruit to clarified and organic blends, we can provide solutions for various needs. Our R&D team is happy to walk customers through suitable options to ensure they get the outcome they are looking for. Read on for details on the Northwest Naturals grapefruit product line:
Northwest Natural Grapefruit product line:
Season: November – June
Description of the grapefruit flavor profile:
White Grapefruit Concentrate: Tarte, bitter, astringent
Pink Grapefruit Juice Concentrate: tarte, sweet, juicy
Clarified Grapefruit – mild flavor, tarte, gives off a more caramelized grapefruit flavor, tarte, provides clear/white finish to product
Organic Grapefruit
Pairing suggestions:
This product line is very versatile and pairs well with variety of flavors, including:
Herbs- basil, thyme, rosemary, sage
Spices- turmeric, ginger, cinnamon, cardamom
Fruits- orange, lime, lemon, cherry, strawberry, mango
Applications grapefruit can be used in:
Alcohol applications such as liquors, ciders
Seltzers, both alcoholic and non-alcoholic
Kombucha and hard kombucha
Tea
Cold frozen items like sorbets
Baked goods and can generally be supplemented for classic citrus flavors like lemon and lime.
Northwest Naturals has created these products using grapefruit:
Flavored gin using Grapefruit + Cucumber Blend
Kombucha using the Organic Grapefruit Blend
Sparkling cocktail using Grapefruit + Cherry Blend
Canned vodka cocktail as a seasonal item using Cranberry + Citrus + Grapefruit Blend
Recipes our team can't get enough of: [insert image]
Grapefruit avocado smoothie
Pink grapefruit curd cookies (our twist of a lemon bar with shortbread crust)
For additional recipes, visit our Instagram profile or website
Our R&D team will help you determine which grapefruit product and flavor is best for you. Don't let this determine what you can create, contact us if you have an idea!